Narratives of Our Life and Times

Narrative of Our Life and Times
is a NYSLC arts learning project completed at Monroe County Jail. It was designed and developed as a means for incarcerated youth to reach out and share their thoughts and observations on their neighborhoods and their community. Dale Davis, NYSLC artist intern, Juliana Muniz, and Rochester City School District teachers, Charles Hetterich and Takisha Times, worked together with the youth on this project. Narrative of Our Life and Times was made possible with funding from the Guido and Ellen Palma Foundation, the Rochester City School District, the Office of The Sheriff, County of Monroe, and the New York State Council on the Arts. The New York State Literary Center thanks the City of Rochester, Rochester, New York; Rochester Public Library, Local History Division; and the Albert R. Stone Negative Collection, Rochester Museum and Science Center for permission to use the photographs.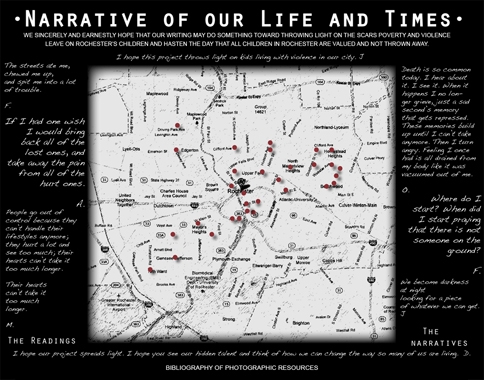 ---
The New York State Literary Center (NYSLC) is a Rochester, New York based arts education organization that serves those at the highest risk for educational failure through interdisciplinary, culturally relevant, strength based arts programs that improve literacy, reading, and listening skills; inject a sense of community belonging; give individuals power over the narrative of their lives; reach out with strong, clear voices on personal and social identity; and articulate a compelling visionof how communities can be better places.
---
Your donations will help to ensure this vital program continues.
---
NYSLC's Arts, Literacy, and The Classroom Community, a Video by Melanie Hibbert, Ed-Lab, Teachers College, Columbia University
---
---
Have you ever had a dream so big you donít think you will ever get to it. I do. I try to survive even if my dreams never come true. I try to live my life. I try to do it right.
It is hard when there is no light.
Can I survive if my dreams donít come true.
I am trying to live my life, trying to do it right
It is hard.